A PlantPure Update
The past couple of weeks have been good weeks for us. We are engaging groups in Durham, NC and other cities across the country to help validate the projects in our community model. Our platform will include five strategic initiatives: outreach to the public, healthcare providers, employers, young people, and underserved neighborhoods. Our most recent partner to come on board will help validate our employer strategy.
I have long felt that engagement with employers is critical if we want to rapidly transition the world to a plant-based diet. Most employers have no idea of the huge savings they can achieve by introducing their employees to a plant-based diet. We have seen dramatic results in many of the Jumpstarts we have done. For example, over 80% of people on medications for chronic conditions have had the option to eliminate or substantially reduce those medications after just 10 days on the diet.
Once employers wake up to this possibility, we will shift into a very different financial situation than what exists today. Those industries benefitting from our poor health are large, but the rest of the economy is bigger. Once the rest of the economy understands the financial savings that can be gained through plant-based nutrition, it will pit money against money, and the money aligned with those savings will win the day.
The key is awareness, which is what our community model is all about. We hope you can continue following our progress and, once our model is fully validated, help to bring this model into your own communities.
In the meantime, if you run a business or work at a business that might be open-minded to the possibilities of plant-based worksite wellness, let us know. You can learn about our employer offering here.
Until next time,
Nelson

If you are not a newsletter subscriber, we invite you to join us. Subscribe here
---
Healing America Update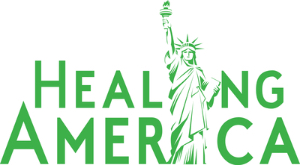 For this week's Healing America video, we created an updated campaign overview that is current with our new developments in the movement. You can access the video through this link: https://youtu.be/7Af2tkWm27A
---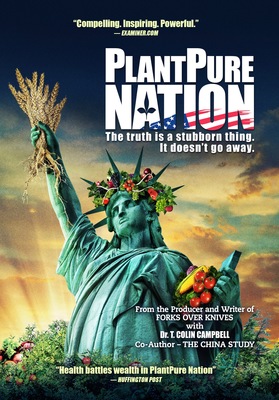 We are excited to announce that our film is now available for free on YouTube. Please share the link! In addition, our film is now playing not only on Amazon Prime, but also on FMTV. After you sign up, the film can be found here.
---
An Update From The Non-Profit Organization PlantPure Communities
PlantPure Communities Needs Your Support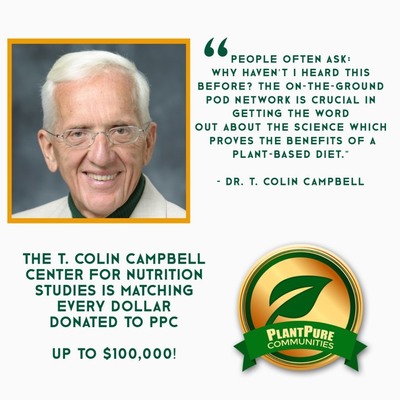 Did you know? Right now donations to the nonprofit PlantPure Communities will have an even greater impact thanks to the matching funds that will be received from the T. Colin Campbell Center for Nutrition Studies, doubling the impact of your gift! Your donations help support the Oasis Program, bringing nutrition education and plant-based food to low income communities around the U.S. PPC is almost HALFWAY to the matching goal! Help reach it by June 30th. Thank you in advance for supporting the nonprofit, and your community.