A PlantPure Update
On Wednesday evening, the nonprofit PlantPure Communities held a wonderful webinar on the connection of our food choices to our environment. If you would like to view the recording of this, you can do so here.
I also encourage you to check out all that PlantPure Communities is doing. At the opening of the webinar, Executive Director Jody Kass did a wonderful job summarizing their activities. And of course, you can visit the PlantPure Communities website for information. I am proud to be associated with such a wonderful team there, all working hard to make a difference through education and grassroots activism.
This week, we are sharing the introductory video we just completed for another of the projects we are launching through our new social action web platform. This one is focused on young people and climate advocacy. As with our other Healing America projects, we are going to validate this project in one location, before scaling it along with the rest of our platform across the nation. You can access this video here.
And finally, you might want to check out our new sale below. You cannot find plant-based meals anywhere else that are as affordable as what we are offering here.
Thanks for your continuing interest and support.
Until next time,
Nelson

If you are not a newsletter subscriber, we invite you to join us. Subscribe here
---
As a new school year and the return of busy schedules fast approaches, now is a great time to stock up your freezer with our delicious, convenient, and healthy meals! For only $109 or $5.45 per meal ($79.57 or $3.98 per meal for current Discount Club members), you get a 20 pack with the best of both worlds. This pack includes five entrees from our Mild/Comfort collection and five from our International collection, with two of each meal in the pack. Once these special packs are gone, they're gone, so order today!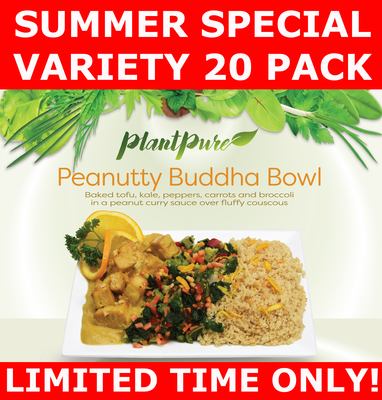 ---
A PlantPure Testimonial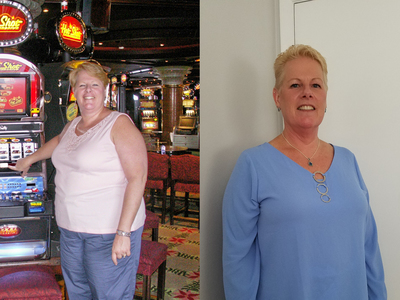 Pat Vanlier's story began six years ago when she decided to improve her health. Pat weighed close to 300 lbs and was pre-diabetic, with both high cholesterol and blood pressure. Coupled with the fact that Pat had a family history of heart disease and type 2 diabetes, she knew it was time to make a change. She began by eating a "healthy diet" and adding exercise to her routine. After 1½ years, she lost 100 lbs. Unfortunately, her weight loss plateaued, even though she was still eating what she considered to be a healthy diet. Additionally, during the past 2 years, there were a few family issues that added just enough stress, causing her to gain back 50 lbs. In Pat's words, she could not seem to get her motivation back. Read more here...
---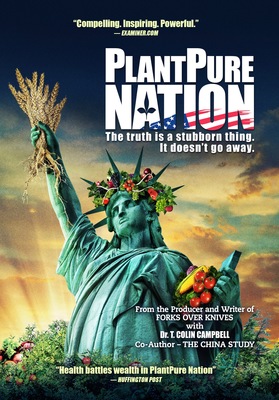 We are excited to announce that our film is now available for free on YouTube. Please share the link! In addition, our film is now playing not only on Amazon Prime, but also on FMTV. After you sign up, the film can be found here.
---
An Update From The Non-Profit Organization PlantPure Communities
Win a Free Trip to New York City!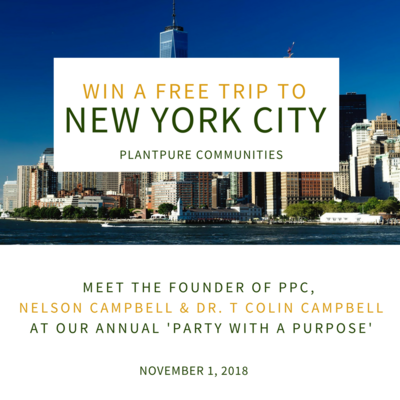 Do you want to win a trip to NYC to participate in the Nov. 1st PlantPure Communities Party with a Purpose - including coach airfare, hotel, and ticket? PPC is holding a Raffle for everyone who participates in the Restaurant Campaign. Each time your efforts result in a new restaurant earning a Certificate of Participation, you will be entered for a chance to win! Click here for details.